Are business trips popular in your company? Take advantage of this and enjoy the savings!


LOT Dla Firm is a business programme designed for people who do business on the Polish market. Participation in the Programme guarantees the most effective use of the business travel expenses. Why?

For every LOT Polish Airlines flight, hotel stay or car rental, new Points are being assigned both to the company's account and to the employee's private Miles&More account.


Accumulated Points can be spent on very attractive Awards:  
- Airline tickets
- Travel upgrades
- LOT Travel Vouchers for hotel stays and car rental
- Entry to LOT Business Lounge Polonez or Mazurek
- Extra piece of luggage
- Discount Voucher to AirKiosk.LOT
- Premium menu
- Meal on board



All you have to do is fly with LOT Polish Airlines!


For a good start, your company will receive 1,000 welcome Bonus Points.
In addition, we offer the option of earning Points for all flights taken on LOT in the last 6 months before registration.
At your company's request, we will send you a purchase invoice for every LOT.com ticket.
The more you fly, the more you earn...
For each flight the company receives not only Premium Points, that can be spent on the above-mentioned prizes, but also Status Points which determine the status of the company: Start, Blue, Silver, Gold. Changing status to a higher one means even more privileges!


In reference to different Status, the range of privileges was shown in the table below: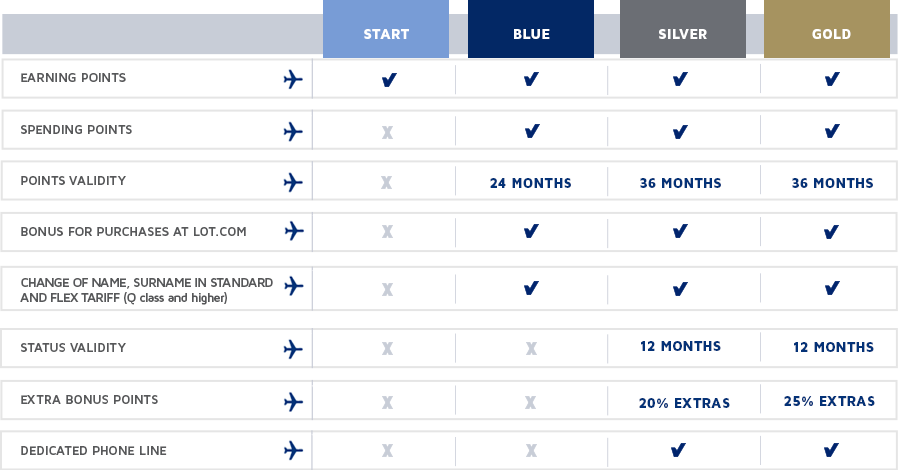 Each LOT flight brings you closer to savings.